Dec 10
24

Your Gift is Waiting to be Opened
[ 3:38 ]
Play in Popup
|
Download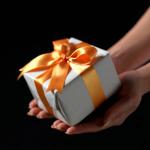 This Intentional Leadership thought comes during the middle of what is considered the busiest holiday season of the year.  Most everyone I have spoken with or corresponded with over the past several weeks seems to wish something was a little different in their ministry or family circumstances this Christmas season.  Maybe you can identify with them as well.  If so, let me share with you the following thoughts of encouragement because I DEEPLY DESIRE FOR YOU TO EXPERIENCE GOD'S GREATNESS IN YOUR LIFE!
Several days ago, I was reading a devotional by Charles Spurgeon which focused on 2 Samuel 23:5, "Yet He has made with me an everlasting covenant."  Rev. Spurgeon expressed this profound message. "Oh that great word HE!  Stop, my soul. God, the everlasting Father, has positively made a covenant with thee; yes, that God who spake the world into existence by a word; He, stooping from His majesty, takes hold of thy hand and makes a covenant with thee."
Father God has made a covenant with YOU!  His holy word guarantees that EVERY PROMISE is already answered "YES" for you because you are in Christ.  Christ means the Anointed!  Therefore, you are in the Anointed One!  You are in the Anointing!  If we are in the Anointed One with an everlasting covenant, then why do we often feel boxed in or captive?  Why are we not experiencing the freedom we have been promised?
I believe this thought can be wonderfully illustrated through an experience Houdini, the famous escape artist, once had.  Houdini made a reputation for himself of being able to escape any lock.  Police would place him in a locked prison cell and within seconds he would loose himself and follow the guards as they walked away — except once.  Houdini remained in a cell for about 30 minutes.  When the officer returned, he found Houdini fuming over the lock.  The officer gave a simple push on the door and it swung open.  The door had never been locked.  It was unlocked the entire time!
Now, consider that God has already unlocked the door for you.  Jesus won the victory.  The battle is the Lord's and He has won it!  You have already been given freedom, wisdom, direction, victory, and everything you need for life and ministry; every promise from God.  Too often, like Houdini, our struggle comes from believing the "door is still locked!"  Do not be discouraged or defeated!  Fling the door open!  Let this Christmas season be a POWERFUL REMINDER of God's everlasting covenant with you.
I pray for you to enjoy a MERRY CHRISTMAS!  Experience God's goodness and greatness this season!  May you be aware of His surpassing love in your life and family!
Gary R. Linn


Print This