Sep 10
22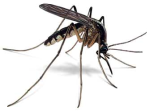 I was sitting with God this morning on my back porch.  It was a beautifully bright morning.  The trickling water falling into our small pond created an wonderful acoustic background as I watched the birds feeding and the dragonflies circling throughout the backyard.  Then, in the midst of enjoying His handiwork, I felt an irritating sting on my left arm.  As I looked down, my eyes caught a glimpse of a mosquito flittering away and landing on the edge of the table.  At which moment, I slapped him and then, "ewwww."     That's when the the word came that I had been needing.  It was so simple, yet profound,
that I wish to share it with you as well.
The mosquito maintains its life by feeding on the life-blood of another creature.  So the question comes, "What are the mosquitoes in your ministry?"  What situations, events, challenges, and yes, even people that are draining your energies?
This morning, God showed me several "ministry mosquitoes" that I can quickly address and exterminate from my schedule.  Be challenged today to identify your ministry mosquitoes and remove them.
Rev. Gary R. Linn


Print This