Standard Podcast
[ 18:11 ]
Play in Popup
|
Download
I created this page in honor of my grandfather, Alvin McKindery Linn, Sr. Our family is so large that many could not attend the service celebrating his life. Clicking the arrow above will play the message, "Legacy", from the funeral home. Below are his obituary, order of the services, lyrics to the song sung by Melissa Linn, and a few pictures from the Memories DVD. I pray this is a blessing for all of my family.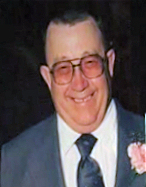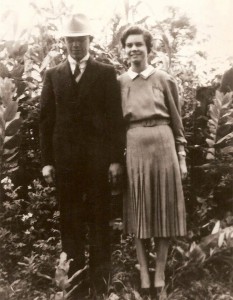 Alvin M. Linn Sr., 92, of Falling Waters, W.Va., passed away on Monday, June 10, 2013, at Reeder's Memorial Home in Boonsboro, Md.
He was born March 10, 1921, in Maddensville, Pa., to the late Cleveland Howard and Edna Ruth Gamble Linn.
He was preceded in death by his first wife, Blanche Eliza Burton Linn, on Jan. 26, 1992.
He was a milk-truck driver for 15 years for Earl Mercer & Son Trucking Co. and was previously employed by Edison Groh Farming for 21 years. He was most recently employed by Weis Market, Hagerstown, Md.
He was a veteran of the U.S. Army serving during World War II.
He was of the Protestant faith.
Survivors include his wife, Thelma Catherine Harsh Linn of Falling Waters; daughter, Medora I. Stoneberger of Newville, Pa.; daughter, Sarah E. Gentile of Greencastle, Pa.; daughter, Rose E. Jones of Hagerstown; daughter, Tina B. Linn of Cary, N.C.; son, Samuel H. Linn of Front Royal, Va.; son, Joseph H. Linn of State Line, Pa.; son, Alvin M. Linn Jr. of Williamsport, Md.; son, Daniel P. Linn of Chambersburg, Pa.; son, Thornie E. Linn of Hagerstown; son, Carl L. Linn of Hagerstown; seven stepchildren, 26 grandchildren, 52 great-grandchildren, four great-great-grandchildren, 18 stepgrandchildren, 16 stepgreat-grandchildren, 11 stepgreat-great-grandchildren, two step-great-great-great-grandchildren; and brother, James R. Linn of Spring Hill, Fla.
He was predeceased by two daughters, Edna D. Baker and Clara B. Watson; four brothers, John Linn, Daniel Linn, Russell Linn and David Linn; two sisters, Betty L. Wiley and Verna J. Phillips; three half sisters, Bertha Moffett, Mary Singleton and Sarah Ulsh; two half brothers, Eugene Linn and Clair Linn; great-grandson, Dominic Stoneberger; and stepgrandson, Lloyd Shoemaker.
The family received friends at the Osborne Funeral Home, 425 S. Conococheague St., Williamsport, on Thursday, June 13, 2013, from 6 to 8 p.m.
Funeral services were held at Osborne Funeral Home, 425 S. Conococheague St., Williamsport, on Friday, June 14, 2013, at 2 p.m. with  Linn's grandchildren officiating, Rev. Gary R. Linn, Rev. Melissa Linn, Rev. Alvin M. Linn, III, Rev. Brian Linn, Rev. TJ Denman. Interment was in Cedar Lawn Memorial Park, Hagerstown. Military graveside services were provided by Morris Frock Post 42 American Legion of Hagerstown.
Order of Services:
Osborne Funeral Home
Welcome / Obituary / Prayer – Rev. TJ Denman
Opening Address to Family – Rev. Gary R. Linn
Special Music – "Go Rest High On That Mountain" – Rev. Melissa Linn
Memories – Rev. Melissa Linn
Special Music – "Legacy" – Rev. Melissa Linn  (lyrics are below)
Message "Legacy" – Rev. Gary R. Linn  (Right Click to Download MP3)
Cedar Lawn Memorial Park
Scripture / Memories – Rev. Brian Linn
Interment Message – Rev. Alvin M. Linn, III
Military Honors
Closing Prayer – Rev. Gary R. Linn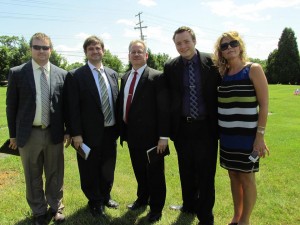 Alvin M. Linn, Brian Linn, Gary R. Linn, TJ Denman, Melissa Linn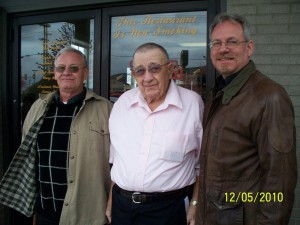 Samuel H. Linn, Alvin M. Linn, Sr., Gary R. Linn
"Legacy" – lyrics
I don't mind if you've got something nice to say about me
And I enjoy an accolade like the rest
And you can take my picture and hang it in a gallery
Of all the "who's who's" and so-and-so's
That used to be the best at such and such
It wouldn't matter much
I won't lie, it feels alright to see your name in lights
We all need an "atta boy" or "atta girl"
But in the end I'd like to hang my hat on more besides
The temporary trappings of this world
I want to leave a legacy
How will they remember me?
Did I choose to love?
Did I point to You enough
To make a mark on things
I want to leave an offering
A child of mercy and grace
Who blessed Your name unapologetically
And leave that kind of legacy
I don't have to look too far or too long awhile
To make a lengthy list of all that I enjoy
It's an accumulating trinket and a treasure pile
Where moth and rust, thieves and such will soon
enough destroy
I want to leave a legacy
How will they remember me?
Did I choose to love?
Did I point to You enough
To make a mark on things
I want to leave an offering
A child of mercy and grace
Who blessed Your name unapologetically
And leave that kind of legacy
Not well-traveled, not well-read
Not well-to-do, or well-bred
I just want to hear instead
Well done, good and faithful one
I want to leave a legacy
How will they remember me?
Did I choose to love?
Did I point to You enough
To make a mark on things?
I want to leave an offering
A child of mercy and grace
Who blessed Your name unapologetically
And leave that kind of legacy
I don't mind if you've got something nice to say about me
Screenshots from Memories DVD 

50th Anniversary Celebration with Alvin & Blanche Linn renewing their vows with Gary R. Linn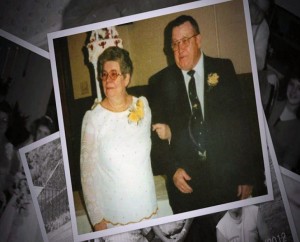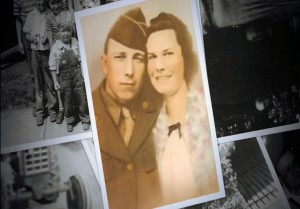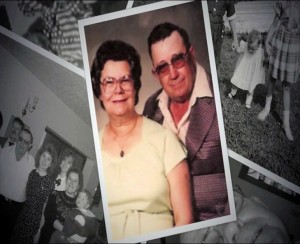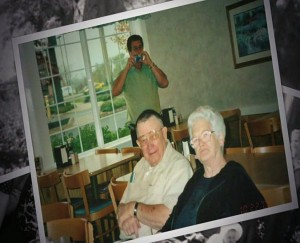 Alvin & Thelma Linn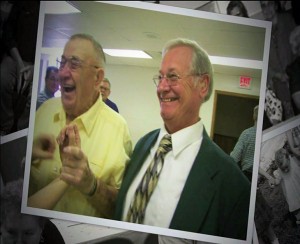 Alvin & Samuel Linn